FOSS Talk
Free and open source podcasts




28/06/2016

The last show at FOSS Talk Live 2017 was the Drunken Mashup Show. It Featured me Joe Ressington, Stuart Langridge, Dave Megaslippers and Marius Quabeck.

We answered some questions that had been submitted by anonymous strangers and discussed some of them with the live audience.








---


14/03/2017




FOSS Talk Live is back!



It will happen on 24th June 2017 between 6pm and 11pm at The Harrison near Kings Cross in London.

The event will be strictly 18+ (no children allowed).

It will be free to attend with a bucket for voluntary contributions.

There will be live recordings of Linux Voice, Ubuntu Podcast, Late Night linux and a mashup show featuring Stuart Langridge, Dave Megaslippers, Marius Quabeck and Joe Ressington.



The schedule is as follows:

17.00 - Pub opens

18.15 - Late Night Linux

19.15 - Ubuntu Podcast

20.00 - Break

21.00 - Linux Voice

22.00 - Mashup show

23.00 - Pub closes and we relocate to a pub nearby


All of the free tickets have now gone but the live shows are in the basement of a pub so anyone can come and hang out upstairs. There is a reasonable chance that a few ticketholders won't turn up and that some people won't want to watch all of the live shows. With that in mind, you should come even if you didn't reserve a ticket. The worst that will happen is that you will sit in a pub and talk to other Linux Users


You can follow @FOSS_Talk on Twitter.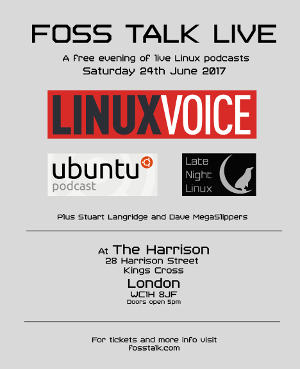 ---


13/08/2016

First of all let me say thanks to everyone who came, participated, bought beer and had a good time. There would have been no event without you all.




All of the live show recordings have now been released. Here they are in chronological order of the night:




Linux Voice Season 4 Episode 12

Drunken Mashup Show (feat Stuart Langridge and Dave Megaslippers)

I also talked about my experiences of the night on the JoeRess Podcast #21

Hopefully we'll do something similar again soon.

Joe



---


08/08/2016

The last show at FOSS Talk Live 2016 was dubbed the Drunken Mashup. It Featured me Joe Ressington, Stuart Langridge and Dave Megaslippers.

You can download the ogg file or the mp3 file.

BE WARNED that this show is NSFW. There was a lot of swearing from the very beginning including the very worst word. I was very drunk by this point and the show teetered on the brink of chaos throughout.

We discussed what it would take for a new mobile OS to have any chance of gaining market share in a world dominated by iOS and Android. We also briefly discussed games and proprietary software on Linux at the end.